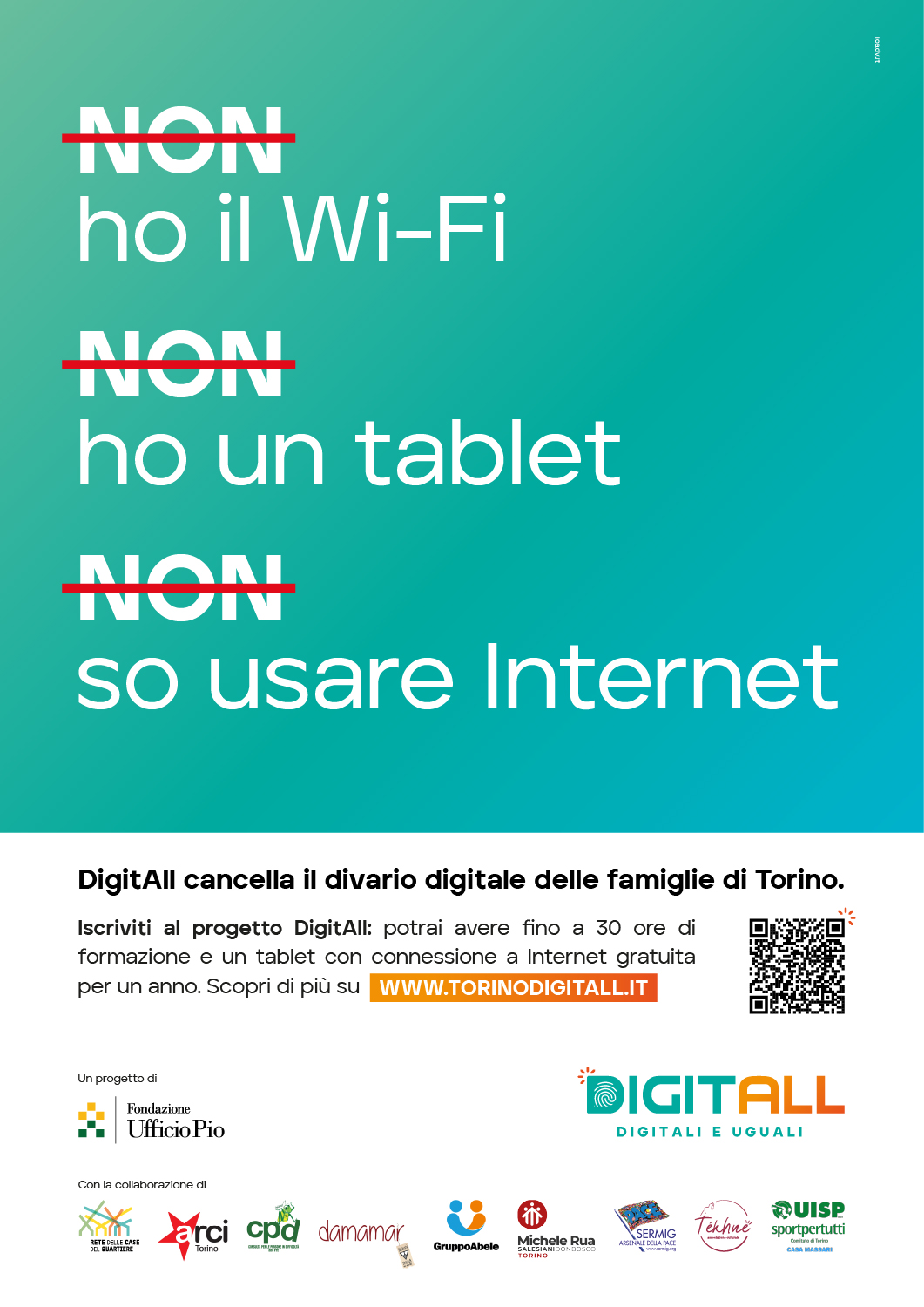 06 / 09 / 2023
Il progetto DigitAll 2023
Vuoi imparare a usare smartphone e tablet? Ti interessa migliorare le tue capacità digitali e avere accesso gratuito a internet?
🟨Il progetto DigitAll di Ufficio Pio offre formazione gratuita, connessione wi-fi per un anno e un tablet per accelerare il tuo accesso alle opportunità online e navigare su internet con sicurezza, imparando a usare gli strumenti digitali più importanti per la quotidianità. Alla fine del corso saprai accedere ai servizi pubblici, interagire con la scuola dei tuoi figli o cercare occasioni di lavoro.
REQUISITI:
– Avere almeno un/a figlio/a minore nato tra il 2006 e il 2020
– Residenza nel Comune di Torino
– ISEE 2023 uguale o inferiore a 8.400 euro
🟨 COMPILA QUI LA DOMANDA ENTRO IL 5 NOVEMBRE  www.torinodigitall.it
Attenzione, il corso è in lingua italiana
—
Do you want to learn how to use smartphones and tablets? Are you interested in improving your digital skills and having free access to the internet?
🟨 Ufficio Pio's DigitAll project offers free training, wi-fi connection for one year and a tablet to speed up your access to online opportunities and surf the internet safely, learning how to use the most important digital tools for everyday life. By the end of the course you will know how to access public services, interact with your children's school or search for job opportunities.
REQUIREMENTS:
– Have at least one child in school (born between 2006 and 2020).
– Live in the Municipality of Turin.
– Your ISEE 2023 is equal to or less than €8,400.
– Not having previously participated in DigitALL.
Please note, the course is held in Italian
🟨 APPLY HERE BY NOVEMBER 5th 2023 www.torinodigitall.it